Community

Notices
This section is where groups that we work with can post information about services and upcoming events (please click on the links to open the information in a new browser).
United Utilities - Debt Support and Affordability Schemes
Please click on the links below for further information regarding United Utilities and the 'Support Schemes' they have to offer.
"What
Now?"
A
Programme
For
Parents/Family
Members/Carers
Of
Children
And
Young
People
On
The
Autism
Spectrum
Please click on the links below for further information regarding the "What Now?" Programme.
Foster and Change Futures
Please click on the link below for details on Children's Foster Care.
Carlisle
Sure
Start Children's Centres
Please click on the links below for details of courses/play sessions being run by Carlisle Sure Start Children's Centres.
Carlisle Urban May 2019 Noticeboard
Carlisle Urban - April - June 2019 Newsletter
Carlisle Urban - Sensory Rooms, Newtown
Carlisle Urban - Sensory Rooms, Harraby
Holiday Activity - Fairytale Fun
Making a referral:
Request for Single Agency Response
People
First
Self
Advocacy
Group
Please click on the link below to find out more about the People First programme
Henshaws
College:
A
Free
E-book
For
Parents
And
Carers
Of
Young
People
With
Disabilities
Henshaws College have published a new e-book serious "Step By Step Guides To Living With Disabilities". Download your free copy now.
The Lowry:
Relaxed
Performances
To book any of the following performances:
Call our dedicated Access line on 0161 876 2183
If you wish to book online, email boxofficeadmin@thelowry.com and we will set up a free Accessible Performance account, which will allow you to book relaxed performances online once logged in.
For more information regarding relaxed performances please click on the links below
Take a virtual tour of The Lowry: We've worked with North West-based assistive technology company, Access Social, to create an interactive virtual tour of The Lowry, which we hope will prove useful for anyone wanting to familiarise themselves with our building before visiting.
Theatre
By
The
Lake:
Relaxed
Performances
Going to the theatre can be an amazing experience – the excitement of seeing live actors on stage, the thrilling special effects, the special feeling of laughing along with 400 other people. At Theatre by the Lake we want everyone to be able to come along to our shows and have a great time, but we know that not everybody enjoys the normal theatre environment. We have therefore introduced relaxed performances.
During these performance there will be extra lighting in the theatre and plenty of staff to help with seating and access. Loud sound effects and bright lights will be toned down so no-one is upset or scared by them. There's no need to worry about disrupting the show, because you'll be allowed to move around and make noise. There will also be chill-out spaces outside the theatre in case you need a break from the show. We'll send out information packs before the performances, so that you can be fully prepared before you arrive.
Just for these performances, we're offering a special ticket deal – any person under 26 (including parents and carers) can come for only £5 and anybody over the age of 26 for only £10. There may also be a limited number of free tickets available for the accompanying adults of larger groups.
To book your tickets please call the Box Office on 017687 74411. They'll also be able to provide more details about group bookings and help with any special requirements. We want to try and adapt the performances to suit the audience as much as possible, so we'll do our best to meet your needs.
For more information regarding relaxed performances please click on the links below
Jeeves & Wooster: A Perfect Nonsense
Fun Palaces
Theatre by the Lake is delighted to be participating in this UK-wide celebration where community organisation open their doors and host fun activities throughout the day - an opportunity for all to learn, create, explore and have FUN!
Theatre by the Lake's Fun Palace will be taking place on Sunday 7 October from 11 am to 3 pm and will include activities for all the family led by various groups from the local community.
Free and open to all. We look forward to seeing you there!
Tullie House Museum: Autism Friendly Early Openings
Tullie House Museum will be opening their galleries early specially for children with autism and their families, siblings, friends and carers. Families can explore the galleries at their own pace in a calm, relaxed environment. There will also be the opportunity to take part in trails, arts and crafts activities and object handling in the Community Room, led by trained staff. For more information please click here
Young People First: Access All Areas
Young People First are introducing a new project that has been funded by Children In Need to support young people with disabilities to improve accessibility to their services. Their aim over the next three years is to run groups throughout Cumbria and they are currently recruiting young people in Carlisle for their first group. The groups will conduct accessibility audits on services on their choice and will provide recommendations for improvements. If the service shows that they are acting on any recommendations or show an improvement, they will be granted an Accessibility Award.
This project will also allow young people to develop skills, access new services and increase their confidence with the knowledge that their voice will be listened to. The project gives services the confidence to work with people with disabilities, acknowledge that accessibility is not just a tick box exercise and have something to show the public, much like a hygiene rating.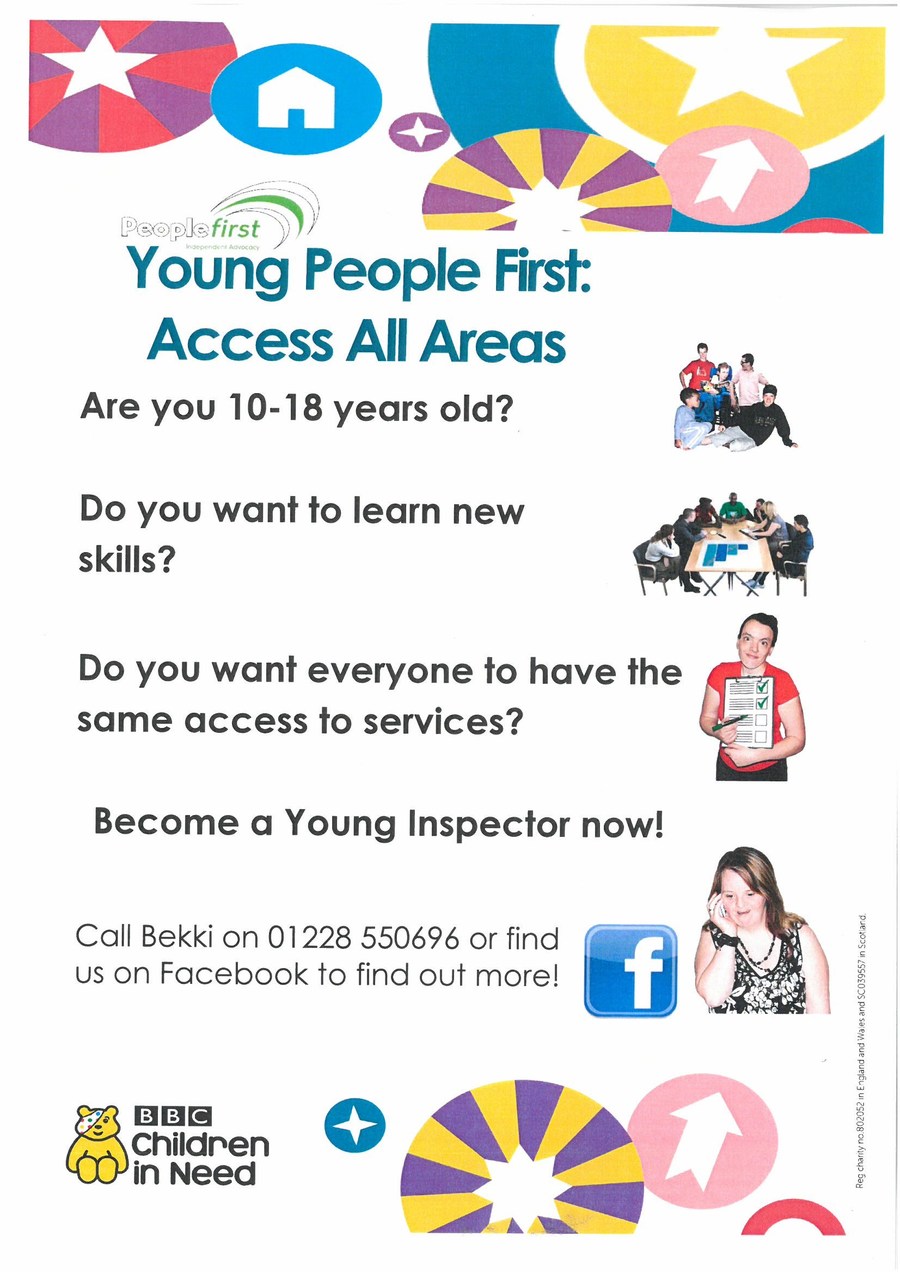 Planning For The Future Events
The Wills and Trusts Team at Mencap gives information to over 3,000 people each year on making a will and setting up a trust to help families to plan for the future and give peace of mind.
They run free two hour Planning For The Future seminars across England, Wales and Northern Ireland annually. These are delivered by a qualified local solicitor who provides advice on how to leave money to a child with a learning disability.
Please click here for dates and further information
To reserve a free seminar place, please click on the link above.
CustomEyes: Large Print Books For Children And Young People From Guide Dogs
CustomEyes provides large print books to children and young people with a vision impairment or dyslexia at the recommended retail price of standard books. Tailor-made to the specifications of each child's needs for font, font size, line spacing and paper contrasts, CustomEyes provides school books and books for leisure reading.
Who is eligible for the CustomEyes service?
Professionals working with children with vision impairments or dyslexia.
Children or parents and guardians of a child under 25 years with a vision impairment.
Just download the application form from their website, fill it in and return it to them.
Visit www.guidedogs.org.uk/customeyes for more information and for a list of books available.